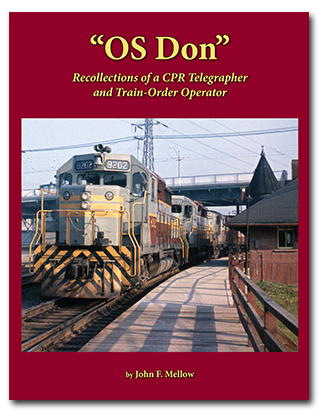 NOW SHIPPING!
"OS Don" is the story of author John F. Mellow's early years working for the Canadian Pacific Railway in southern Ontario, giving readers a 1960s front row seat as the Canadian railway industry transitioned from traditional Morse-code telegraphy and train-orders to the present age of computer-assisted operations.
Mellow's career as a train-order operator began at Toronto's Don station in 1963. Before recalling his own experiences there and elsewhere on the CPR, he presents the history of Don station and its role in the operations of steam and diesel era CPR and CNR trains through Toronto's scenic Don Valley.
A hardcover book measuring 8-1/2" x 11", it has 128 pages with more than 160 colour and black and white photographs, as well as maps, steam locomotive assignments and a glossary.
A publication of The Bytown Railway Society.